Glimpses of the University
The Uttar Banga Krishi Viswavidyalaya with its headquarter at Pundibari (Coochbehar) started functioning on and from 1st February, 2001 for the development of agriculture and for the furtherance of the advancement of agricultural education, prosecution of agricultural research and extension in the eight northern districts of West Bengal.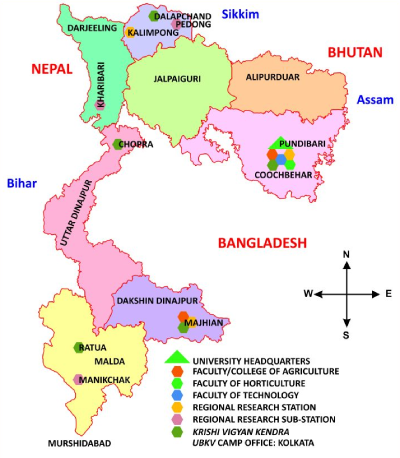 The University took birth through bifurcation from the Bidhan Chandra Krishi Viswavidyalaya. The University has three degree programmes covering Agriculture, Horticulture and Agricultural Engineering disciplines along with the post graduate programmes in every discipline of Agriculture and Horticulture Faculties. The implementation of IVth Deans' Committee Recommendation in case of rules, regulations and syllabi in UG & PG is overwhelming and praiseworthy. The Vth Deans' Committee Recommendation for degree courses has been started from the academic year 2016-17. The University is fostering collaboration with Indian and foreign individuals and organizations for the purposes of better teaching and research prospects.
LOCATION OF THE UNIVERSITY
The Head-Quarter is situated at Pundibari, a rural block in the district of Cooch Behar (with 43 m MSL) which is 15 KM away from the district head-quarters. The nearest railway station is New Cooch Behar, which lies in between Kolkata and Guwahati train route. It is 14 KM from Pundibari and 6 KM from Cooch Behar town.It is situated by the side of the highway (NH 31) which leads from Cooch Behar to Siliguri. The nearest airport is Bagdogra which is 184 KM away from the University Head Quarters.

Academic Programmes in University/ Constituent Colleges/Faculty:
SN
Name of the Constituent College/Faculty
Bachelor's
Master's
Ph. D.
Programme
Duration
Programme
Duration
Programme
Duration
1.
Faculty of Agriculture
B. Sc. (Agriculture)
4 years
M. Sc. (Agriculture)
2 years
Ph.D. (Agriculture)
3 years and above
2.
Faculty of Horticulture
B. Sc. (Horticulture)
4 years
M. Sc. (Horticulture)
2 years
Ph.D. (Horticulture) & Ph.D. (Forestry)
3 years and above
3.
Faculty of Technology
B. Tech. (Agricultural Engineering)
4 years
–
–
–
–
4.
College of Agriculture
B. Sc. (Agriculture)
4 years
–
–
–
–
Courses offered for UG
At present the following courses are offered by the University
SL. No.
Courses / Degree / Diploma
Duration
Eligibility
Maximum
Intake for Pundibari Campus
Maximum Intake for College of Agriculture, Majhian, Dakshin Dinajpur
1
B.Sc. (Ag.)

Hons

4 years
H.S. (10+2) with Physics, Chemistry, Biology/ Agriculture with at least 60% marks.
66
30
2

B.Sc. (Hort) Hons
4 years
H.S. (10+2) with Physics, Chemistry, Biology/ Agriculture with at least 60% marks
20
X
3
B. Tech. in Ag. Engg.
4 years
H.S. (10+2) with Physics + Chemistry + Math and ICAR or WBJEE qualify.
21
X
Admission of foreign Students:
In the M.Sc. and Ph.D. programme there shall be a maximum of two seats per Department under Faculty of Agriculture and Horticulture. In the Undergraduate level there shall be a maximum of 5 seats per Faculty per course over and above the normal intake. Admission of foreign students shall abide by Foreigners (Amendment) Order, 2016 read with Foreigners Act, 1946 (31 of 1946).
Admission of Kashmiri Migrants:
One seat for Faculty of Agriculture and Faculty of Horticulture is reserved for Kashmiri migrants over and above the normal student intake.
Any change in intake capacity, eligibility, department, etc. will be mentioned in the advertisement / announcement of the respective year.